Welcome To Howard I. Deutsch, DDS
Welcome to the office of Howard I. Deutsch, your dentist in Passaic. We pride ourselves in providing the most personalized and compassionate care to our patients utilizing the most advanced technology and treatment modalities. Building relationships built on trust with our patients, we empower them to make the most informed decisions about their oral health and work with them to achieve outstanding results in care!
As your dentist in Passaic, we pay close attention to the comfort and unique needs of every one of our patients. Our friendly and welcoming staff strives to make each dental visit a positive experience. Welcoming patients of all ages to our practice, we offer the most comprehensive range of dental services available today. Whether you or any family member needs routine dental care, cosmetic dental services, emergency care or comprehensive treatment to restore your smile, our office can help you to achieve a smile that looks and functions at its best!
In 2008, the Center for Implant Dentistry was opened in this location in order to provide our patients who are missing teeth, more treatment options for their replacement. What makes our center unique is that all phases of implant treatment are carried out under one roof: from the initial evaluation, to the surgery, and finally, restoration. Because it is all done here, we can ensure a more integrated treatment sequence. Implants have revolutionized dentistry. They have enabled us to provide a service to our patients that was unheard of just a few short years ago.
At Howard I. Deutsch, DDS, we want to make your dental treatment as stress-free and convenient as possible. Our office works with many insurance plans to help you to best budget for your care. Offering flexible scheduling options, we do our best to make every step of your dental visit as easy as possible.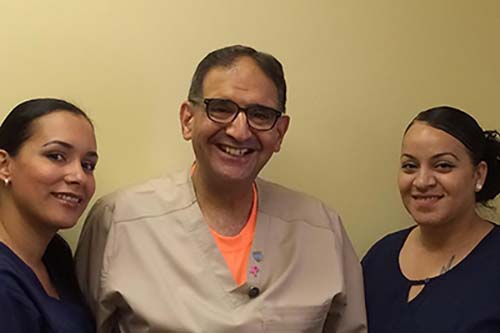 Our comprehensive menu of services include:
Emergency Treatment
Preventive & Restorative Care
Teeth Whitening
Porcelain Veneers
Implants
Dental Crowns & Bridges
Root Canal Therapy
Dentures
Nightguards
TMJ Treatment
Crowns & Bridges
Non-Surgical Gum Treatments
Soft Tissue Laser
Bienvenidos nuestra comunidad hispana, amigos y vecinos nuestra officina. Estamos abiertos Lunes a Viernes de 9:30 A.M. a 6:00 P.M. Todo nuestro empleados habla espanol. Estaremos mas que contentos de ayudarlos con cualquier pregunta; acerca de blanquiamientos de dientes, Implantes o estetica. La Primera consulta es gratis! Esperamos verlos pronto.
Free Consultations are available especially
concerning implant or cosmetic cases.